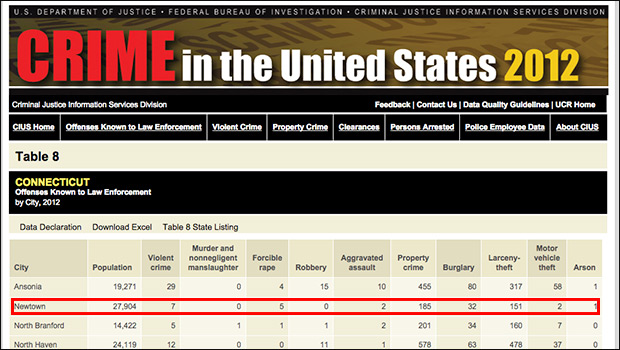 In September, InfoWars.com carried a story which discussed how a recently released FBI crime fact sheet for 2012 offers a strange, and potentially damning piece of information: despite public knowledge of a tragic school shooting that occurred in Newtown, Connecticut, in December of that year, there are apparently zero murders reported by the FBI for the town.
"Recently released FBI crime statistics curiously appear to show that no murders occurred in Newtown, Connecticut, in 2012," the article says, "despite reports that numerous schoolchildren and faculty members were slaughtered during a shooting rampage in December of that year."
The FBI fact sheet in question does indicate a "0" value next to Newtown, Connecticut, for the year of 2012. So is this the latest "smoking gun" in an investigation of what many have already called a "false flag" incident, which the media has misreported as a tragic reality from day one?
Well, not so fast.
The present interpretation of the data, up to this point, has been that the FBI had, in fact, reported no murders in Newtown, CT, in 2012, contrary to the widely publicized school shooting that resulted in the deaths of 27 individuals, which included schoolchildren.
It is true that the FBI.gov data sheet on crime lists "0" in the field for homicides in Newtown, CT, for 2012, as can be seen in the document linked here:
FBI Crime Statistics Fact Sheet for 2012 
However, data maintained elsewhere by state police reports does account for the 27 deaths, which coincides with 27 rifle-related murders reported on page 12 of the following report:
2012 Annual Report of the Uniform Crime Reporting Program, State of Connecticut Department of Emergency Services and Public Protection, Crimes Analysis Unit
110 murders and non-negligent homicides are listed in CT, based on data collected from local agencies statewide for 2012, according to the FBI website. This data is drawn from the UCR (Uniform Crime Reporting Statistics) database, maintained jointly by the DOJ and FBI. Many have called into question why 27 murders were not listed specifically for Newtown by the FBI on their fact sheet, according to this data, which would have accounted for the victims of the Sandy Hook shooting.
However, at UCRdatatool.gov, violent crime data that includes reporting from both local and state agencies can be accessed. Here, 146 murders and non-negligent homicides are listed; thus, the discrepancy between the FBI and the UCR data, according to their websites, is 36 murders.
It should be noted that at the FBI.gov website, for 2012, under the category "Offenses Known to Law Enforcement by State, Tribal, and Other Agencies for 2012", the same number of murders (36 in total) appears again. It is clear that this number perfectly matches the discrepancy between the FBI and UCR statistics noted earlier, and hence explaining the anomaly. The relevant FBI data can be seen at the following link:
Offenses Known to Law Enforcement by State, Tribal, and Other Agencies for 2012 
In conclusion, the fact that zero murders or non-negligent homicides were reported in Newtown, CT, in 2012, according to the FBI fact sheet in question, does not suggest a cover-up had been underway, for which a low-key "admission" or public acknowledgement has been issued by the agency. There were, in fact, 36 murders or homicides reported by state agencies, more than enough to account for the 27 Sandy Hook victims… but FBI data listed them accordingly, and under a different set of data indicating state-gathered statistics, since State Police had been the agency tasked with investigation of the Sandy Hook incident (indicated at www.dpsdata.ct.gov).
Hence, the data pertaining to certain homicides in CT, including the deaths at Sandy Hook elementary, were merely filed separately, based on data collected by state agencies that had not been included in the portion of the FBI document called into question. The data exists, regardless, and can fully account for the perceived discrepancies.
As a final note on all this, since InfoWars carried the story back in September, other sites have begun to run with it as well, employing the same misinterpretation of the FBI's data sheets as a case against the "official" narrative. What we learn from this is that, while data can appear to show us information that is relevant or in accordance with our beliefs, we must be careful about allowing the information to be cherry-picked in a way that merely confirms our biases, rather than explaining the entire situation. Morally, as researchers and writers on these subjects, we have an obligation to exercise extreme caution in any such case. Here, the promotion of a false narrative that "confirms" a conspiracy theory also dissuades believers in it from a reality that includes children whose lives were lost.
The memory of those children, and others who died in the tragic Sandy Hook Elementary School shooting, should be honored; not forgotten as a result of the continued dissemination of information that has not been interpreted critically, or carefully, enough.
Special thanks to Christopher McCollum of Middle Theory, who pulled together the details from relevant fact sheets and various agencies featured in this report.